My colleagues R and M and I have begun a writing support group: we meet up at the Public Library on Friday morning and we write. (Yeah, that's where I am now. And I'm writing. See?)
But this public library, friends, is a snazzy place. We're in our own study room, with barrister lamps and wifi access. And a nice postmodern architectural style:
This is nothing like the public libraries of my childhood in Weatherford.

At first, when I was still in elementary school, it was nothing more than an old brick building that was, I think, originally something else.

Then the new one was built. It seemed fancy. It may not, however, look fancy to you:





And it was practically in my back yard! Oh, modern innovation! Oh, celebrity! (A bronze statue of Mary Martin as Peter Pan graced the entrance. And Mary Martin came to town for the dedication!)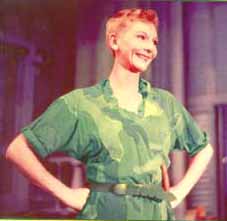 Yes, a representational statue of a representation. That was the library of my childhood. Not this:




It's not my childhood public library. And it's a good thing, too.